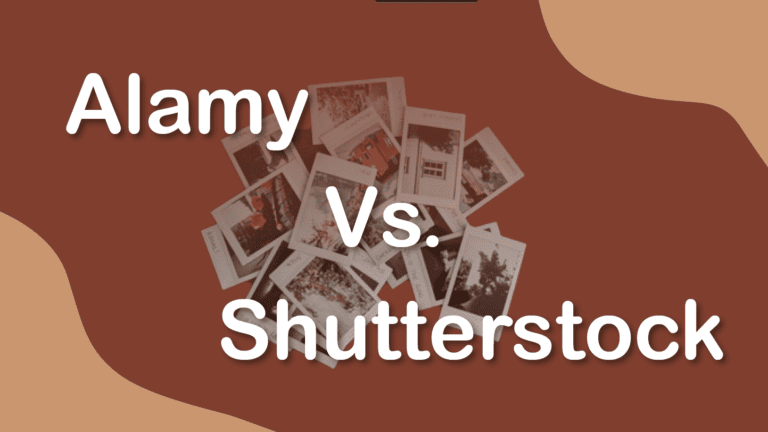 Alamy and Shutterstock are two of the largest stock photo websites used by creative professionals. When deciding on a paid stock website for your projects, you want to choose one that will offer the right visuals and pricing for your specific needs.
In short, Alamy has a trusted and well-established reputation since it has been operating for over 24 years. The extensive library of vectors, stock photos, illustrations, and innovative 360 images offers a vast selection of creative assets for you to choose from. Alamy has one of the largest collections of high-resolution stock photos with a steep pricing structure.
Shutterstock is a newer company than Alamy, although it has quickly established itself as a leading stock photo website. The website has a massive library of stock photos, videos, and music files with an easy-to-understand licensing plan. There are also several integration options on Shutterstock. The website offers more affordable pricing plans than the alternative.
If you still can't decide, keep reading for a comprehensive breakdown to help you choose which one to sign up for regarding images on the site, integrations, pricing, licenses, and more.
What Is Alamy?
Alamy is a mid- to macro stock photo website aimed at creative professionals and businesses across the globe, particularly book publishers and newspapers. The company has been around for more than 24 years and has built up an extensive library of almost 350 million photos, videos, vectors, and 360° panoramic images.
The stock library is supported by over 150,000 contributors from around the world. Top brands, including Ogilvy, Red Bull, and Netflix, have used content from the website for various projects.
Alamy offers licenses and image collections for various uses, including a print store, editorial content, and a creative category. The prices are steep for small businesses or freelancers, and the site is geared more toward large companies and brands.
However, you will be sure to find unique and specific content for your project, so it's worth purchasing one or two images in some cases.
Advantages
Extensive Image Library: Alamy boasts an extensive library with over 340 million images, videos, and vectors, offering a wide range of content to use for various niches and themes
Diverse Content: Alamy provides a diverse range of content, including 360° panoramic images, making it suitable for almost any editorial or creative project
Creative Contributors: Alamy partners with a large community of creative contributors, ensuring a fresh and innovative selection of images worldwide
Royalty-Free and Rights-Managed License: Alamy offers both royalty-free and rights-managed licensing options, giving you flexibility in how you use the content
Disadvantages
Pricing: Alamy's pricing is on the higher side compared to other stock photo websites and is more suited for large projects and companies rather than individuals
Complex Licensing Terms: The licensing terms are complex and may be confusing for those unfamiliar with stock photo licenses
Limited Integrations: Alamy doesn't offer as many integrations with third-party platforms and tools as other popular stock photo websites, which could be a drawback for some users
What Is Shutterstock?
Shutterstock is a popular and well-known microstock photo website used by professionals. The majority of the images on Shutterstock depict generalized content and are aimed at bloggers, designers, marketers, and small business owners.
The website offers an extensive photo library of over 730 million images you can access by signing up for one of the subscription options. The site also offers vectors, videos, and an AI generator for you to create anything you can think of.
Shutterstock is an all-around solution for both individuals and businesses. It has basic design tools for you to create simple designs without the need for expensive software. There is also editorial content and enterprise plans for larger companies.
While there are millions of images to choose from, the site is less specialized than other options, so you may find that the content is generalized. The price is slightly higher than other alternatives with similar offerings.
Advantages
Extensive library: Shutterstock has a massive collection of over 730 million images. There are over 1 billion assets on the site, including videos, vectors, and music tracks
Easy Licensing: Shutterstock offers straightforward licensing options, which makes it easier for users to understand and use the images correctly
Integration-Friendly: Shutterstock integrates seamlessly with various platforms, making it a convenient choice for businesses and creatives who use other design platforms
Affordable: Shutterstock offers affordable subscription plans, compared to high-end sites like Alamy
Disadvantages
Standardized Content: Due to its popularity, some users might find that certain content on Shutterstock appears often in various projects, which reduces the uniqueness of the images in your project
Limited Rights-Managed Content: Shutterstock has plenty of royalty-free content, but it has a limited selection of rights-managed images compared to Alamy
Lower Payouts for Contributors: Creative contributors earn less per download than many other sites, which may lead to a decrease in image quantity and quality over time
Comparison Between Alamy and Shutterstock
If you are still trying to decide which platform you should choose, here is a complete head-to-head comparison of the two websites in terms of images, pricing, integrations, and licenses.
| | Alamy | Shutterstock |
| --- | --- | --- |
| Images | 350+ million images | 730+ million images |
| Pricing | $19.99 per image | $2.90 per image |
| Integrations | Has API | Adobe, Sketch, Powerpoint, Final Cut Pro, WordPress, and has API |
| Licenses | Royalty-free and rights-managed licenses | Primarily royalty-free licenses |
| Best used for | Best for publishers, magazine and newspaper editors, and large companies | Best for individuals, bloggers, designers, and small businesses |
Images
Both websites offer an extensive stock library of images, with a few other content types such as video, vectors, and more. However, the number of pictures and the content type vary between the two platforms.
Alamy offers over 350 million images, focusing on authentic and unique visuals well-suited for editorial use, such as newspapers, magazines, and publishing houses. The site has pictures of current topics, such as news and sporting events. There are also creative images available for a wide range of niches.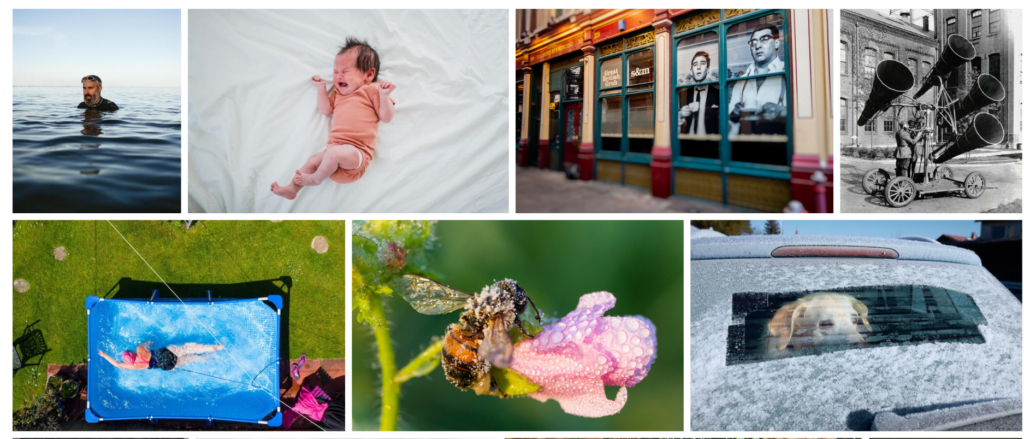 Shutterstock has a more extensive library of over 750 million images, along with vectors, videos, and music files. The stock photo library consists of more generalized content for various creative projects, including current trends.

Pricing
Alamy and Shutterstock require paid subscriptions for users to download and use any content on the site.
Alamy is a high-end macro stock website with pricing that reflects that. Individual images cost $19.99, and to buy in bulk, you need to contact the sales team for a specialized contract based on your business needs.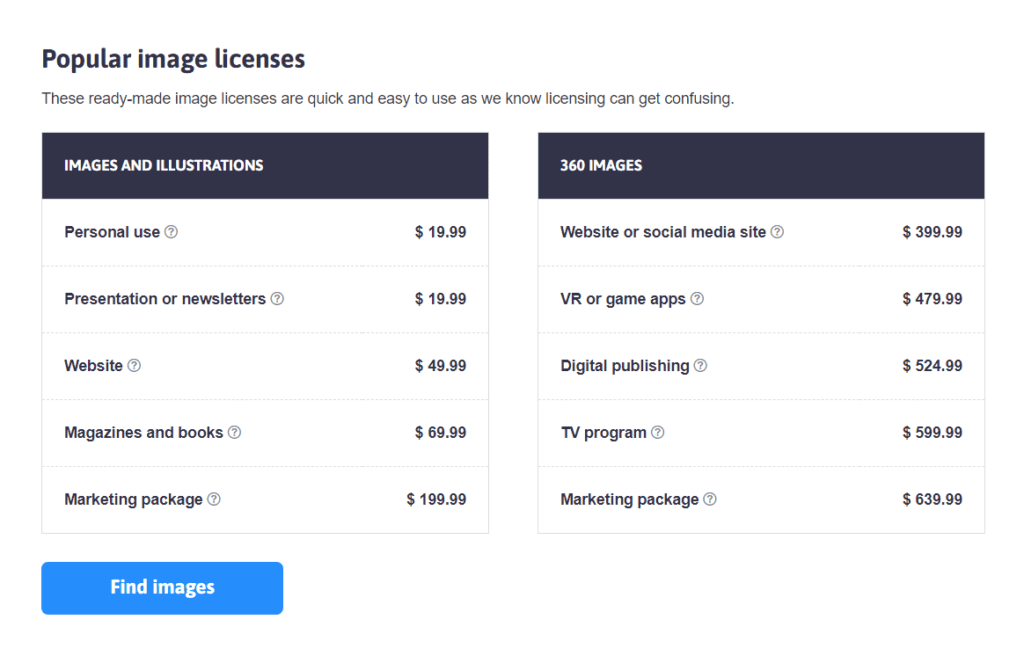 Shutterstock offers individual images starting from $2.90 and standardized subscription plans based on the number of credits you need each month. The subscription prices differ based on the payment plan and the amount of credits.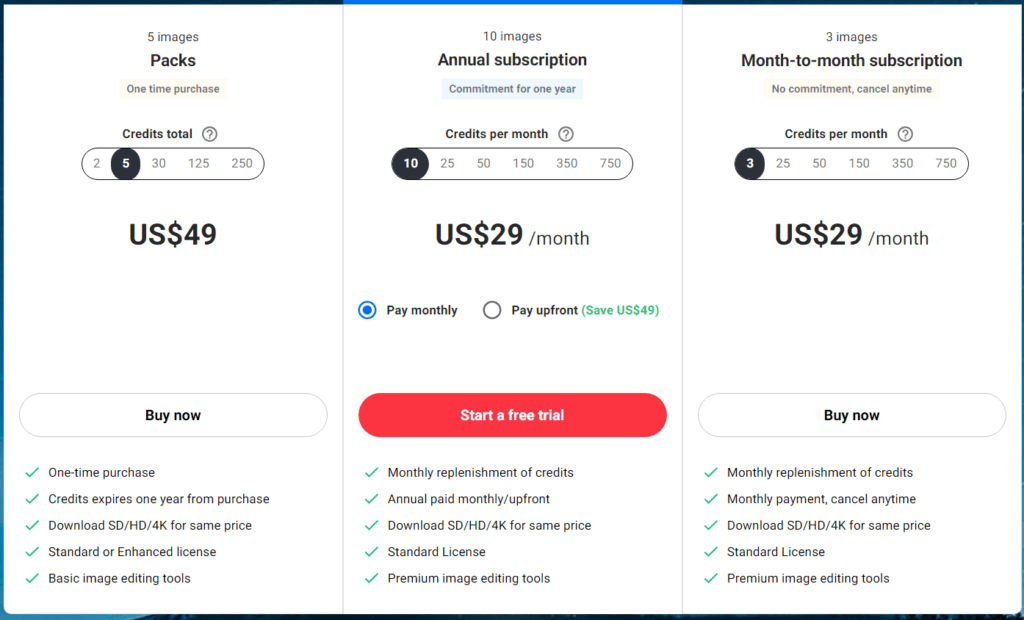 Integrations
Integrations enhance your workflow and seamlessly add content to your projects.
Alamy has API but only a few integration options. Shutterstock has API and offers integrations on many popular platforms like WordPress, Adobe Creative Cloud, and Powerpoint.
Licenses
Licenses can be confusing when trying to figure out where and how you can use specific images from stock websites.
Alamy offers royalty-free and rights-managed licenses, which can confuse those unfamiliar with these licenses. You can purchase an image with a particular license based on where you want to use the image(s). This gives you more flexibility with the photo usage.
Shutterstock primarily offers a standard royalty-free license, which is much easier to understand and know where and how you can use the images. This license type is popular due to its affordability and accessibility.
Best For
Ultimately, the site you use to source images depends on how and where you will use the content.
Alamy is best used for users looking for exclusive, rights-managed content for high-impact commercial projects. If you are looking for authentic and unique visuals from expert creative contributors and a mix of pricing options, then Alamy is the better option for you.
Shutterstock is a more cost-effective solution for users on a budget or for smaller projects. The subscription plans of Shutterstock are well-suited for users needing a constant supply of images for a variety of creative projects without raising the budget too much.
Shutterstock is also best used by those who need seamless integration with various popular design and website platforms.
Which Is Better? Alamy or Shutterstock
When choosing which stock photo site is better for you, it depends on your needs and priorities. You should use Alamy if you need high-quality, exclusive rights-managed content for premium and editorial projects.
If you are looking for a budget-friendly option for images to use in creative projects, then Shutterstock is the best choice. You should also choose Shutterstock if you want seamless integration with your design or website software.