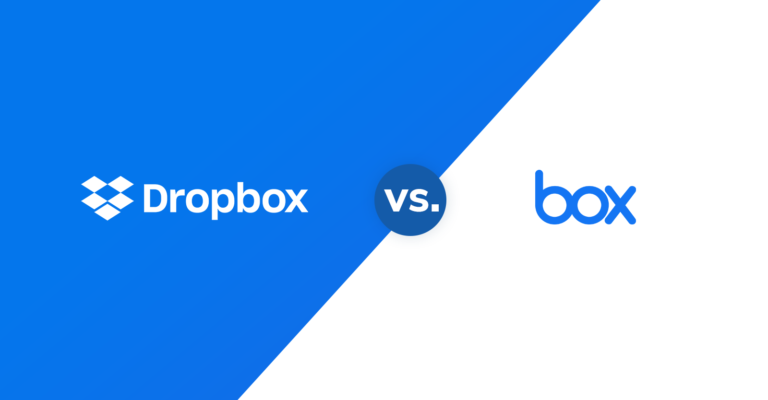 For a graphic designer, work is all fun and games until things start going out of order. Suddenly, you find yourself missing files, crying over documents that are too large to be emailed, and cursed with a hard disk that's too full that it slows down your system's performance.
Thankfully, many cloud storage options can handle your high-resolution files. Dropbox and Box are good examples. Both services offer ample cloud-based storage, secure file transfers, easy-to-use collaboration tools, and seamless syncing across devices.
However, which one of them offers the maximum amount of low-cost storage? We did all the digging and compared both services with an eye on the needs of professional visual fashioners.
Short Answer
For graphic designers, there's no cloud service better than Dropbox. Although Box offers more affordable plans for teams and companies, Dropbox is better for individual creators and designers.
It guarantees slick file sharing, seamless access from a huge range of devices, ample space to stash your precious ideas, advanced security measures, a wide range of useful collaboration features, and above all, no upload size limits.
Dropbox vs. Box: Full Comparison
After presenting our quick opinion, we're going to go into details about the different features, capacity limits, pricing, and security measurements of both cloud services.
Capacity
Most graphic designers don't work with dainty-sized files. That's why you need the largest storage space that can keep your files accessible and in order.
Without a subscription, Dropbox offers 2GB of free storage that can be increased to 16GB by linking your account to social media or referring friends to join the cloud. Apart from the free plan, the company offers many plans to suit your needs, whether you work individually or with a team.
On the other hand, Box provides 10GB of free storage initially, which is quite beneficial if you want to try the service for a while before subscription. Nevertheless, this comes at a price. The file uploads are limited to only 250MB maximum file size, which would be insufficient if you're working with high-resolution files.
This limit increases to 5GB when you subscribe to one of its business plans, most of which offer unlimited storage. Yet, this maximum file size can still be limiting for those who submit large 4K projects.
Winner: Dropbox
Plans and Pricing
Aside from Dropbox's 16GB of free space in the basic plan, all other plans come at a hefty price when compared to other competitors, especially Box. The plans include the Plus, Professional, and Business editions.
The Plus offers 1TB of space at $9.99 a month while the Professional provides double the storage space at $19.99. Both plans are an excellent bargain for individual users. As for the Business category, it includes three pricing tiers: Standard, Advanced, and Enterprise.
The Standard provides 5 TB for $12.5 per user/month with a minimum of three users. The advanced offers unlimited storage for $20 per user/month and starts with three users. Lastly, the Enterprise would be your best choice if you're managing a large creative team as it provides customizable solutions.
Note that you can sign up for a free month trial in the Standard and Advanced editions, which is more than the two weeks provided by Box. However, there's no free trial for the Enterprise edition.
Moreover, it's important to mention that unlike Box, there is no upload limit if you're submitting files from Dropbox's desktop IU or mobile app. Yet, if you're uploading files through the website, the limit would be 50GB, which is ten times more than what Box allows.
Jumping to Box, the service offers a nice individual-user edition for graphic designers who work on a small scale. The Personal Pro plan provides 100GB of additional storage for $10 per month. However, there's still an annoying upload limit of 5GB.
Moreover, it's not as cost-effective for individual users as Dropbox's Plus plan, which offers more storage space at the same price.
For small teams, the Starter plan costs 5$ and allows for 3-10 users to share the service. It offers 100GB of storage and sticks to the 5GB upload limit. The Business plan provides unlimited storage with the same upload limit and for $15 per user/month. It starts with three users and has no maximum.
Finally, the Enterprise edition is similar to the Business plan but with more advanced features and enhanced security. Similar to Dropbox, this edition doesn't offer a free trial, and you should contact Box's sales team to customize the plan.
Winner: Dropbox for individual users and Box for teams and companies
Collaboration Features
Collaboration features are essential if you're working in a team. It's always useful to get feedback from colleagues and share large files with clients without stressing over emails' download limit. And in this aspect, Dropbox is way ahead of Box.
Dropbox's Business subscription offers an intuitive interface together with a huge range of collaboration tools including, editing tools, commenting systems, real-time syncing across all devices, team folders, and centralized admin consoles.
The trump card of these features is the new transfer tool that allows you to send large files with sizes up to 350GB to anyone even if they don't have Dropbox accounts.
Furthermore, it uses block-level file sync, which means you can send blocks of a file instead of the entire file. This is important in a creative business with individuals working across different locations as it guarantees fast transfer.
Since Box is a company-oriented service, it allows the owner to supervise the work by providing access to files across different devices. Other than that, all features are beneficial for businesses that aren't necessarily creative.
Winner: Dropbox
Security
In terms of security, both cloud services secure your data and transfers by file encryption and advanced sharing options. There's also a remote management option that allows you to delete the data remotely in case your account is stolen or a device is broken or lost.
However, Dropbox offers more by its watermarking feature and smart permission options. Moreover, it preserves your deleted files for 180 days so that you can retrieve them if you or a coworker accidentally delete them. Of course, this feature is available on Box as well but for no more than 30 days.
Winner: Dropbox
Pros and Cons of Dropbox and Box
---
Dropbox
Pros:
Affordable individual plan
Provides extra storage when linked with social media
Amazing collaboration tools
Intuitive interface
No upload file size limit
180-day file history preservation
Cons:
Starts with 2GB free storage only
Expensive business plans
---
Box
Pros:
More affordable team plans
Unlimited storage on most plans
Sufficient data loss protection
Starts with 10GB free storage
Cons:
Free account upload limit of 250MB only
Limited collaboration tools
---
So, which cloud to go for?
At the end of the day, both cloud services are secure options to keep your work safe and sync it from numerous devices.
If you're a graphic designer who wants a practical solution to store and stash your files without worrying about storage limitations and hard drive failures, Dropbox is your best pick. The platform provides excellent plans for individual users, and with the advanced security measures and collaboration features, you'll get the best bang for your buck.
Box is a considerably good and affordable option for large creative teams and graphic design companies, thanks to its cost-effective business plans. However, we'll still recommend Dropbox over it for its collaboration features that make the creative workflow easier within large enterprises.