Several design programs and tools exist for all types of creatives, including photographers, illustrators, graphic designers, web designers, and more. The several tools available may make it difficult to decide which program is best for you and your design needs.
As a graphic designer, I have tried and worked on several design programs, including both Figma and Illustrator. While the two programs offer similarities, the type of design you do, your intent, and your budget will determine which program you should use.
From my own experience and reviews from other designers, I have put the two programs head-to-head in terms of interface, tools, features, and pricing to help you decide which software is right for you.
Comparison Overview
| | Figma | Adobe Illustrator |
| --- | --- | --- |
| Common Uses | UI and UX interface and web page design | Illustration and vector-based design |
| Interface | Clean and simple with minimal tools and functions. The Prototype Panel is more complex | Clean and neat with several tools, hidden menus, and features. The interface is best suited for experts who understand the program |
| Ease-Of-Use | Easy to learn and use even for beginners. However, the Prototype panel and features are complex for beginners and hobbyists | Steep learning curve and almost endless features and functions to learn. However, there is an abundance of free and paid resources online to help users |
| Compatibility | Integrations with various programs, including Microsoft Teams, Notion, Slack, and Asana | Works seamlessly with the entire Adobe Suite, including Photoshop, InDesign, and Bridge |
| Collaboration | Real-time collaboration for multiple users with color coding | Minimal collaboration with a new invite-to-edit feature and the ability to comment on files |
| Pricing | A basic free option or paid options from $12 to $75 per editor per month | $20.99 per month for the app only or $54.99 per month on the All Apps plan |
What Is Figma Used For?
Figma is a web-based UI and UX design tool developed for interface and web design and used by graphic designers. The program offers basic tools to create layouts suited for web pages or apps. A prominent feature of Figma is the ability to develop working prototypes for complex and multi-page interfaces for web and mobile.
Figma offers a collaborative solution for teams to work on designs together, as well as multiple third-party applications that work with the software. This allows users to collaborate, create, test, and establish interfaces.
FigJam is a feature in Figma that allows users to work on a digital whiteboard with members of the same team to ideate and brainstorm ideas, which can then be utilized in the Figma design space.
What Is Illustrator Used For?
Illustrator is a vector-based design program that illustrators and graphic designers use to create vector graphics, including logos, illustrations, typography, and digital artwork. The desktop-based application offers several tools and features for users to develop industry-level graphics.
Illustrator is one of Adobe's applications that is available in the Adobe Suite and offers limited collaboration options, such as the ability to invite another user to edit or comment on the project. The program gives users the ability to manipulate scalable vector graphics at a very high level for use in professional situations.
Comparison Between Figma and Adobe Illustrator
Figma and Illustrator are both valuable tools to have in your designer toolkit. However, the program you should prioritize will depend on the type of work you do and your budget. You also may only need one of these programs in your workflow.
Here is a detailed comparison of the two programs to help you decide which one is right for you.
Interface and Ease-Of-Use
The Figma interface is relatively simple and easy to learn. The homepage consists of your account settings, team details, any projects you have in progress, and options to create a new Figma or FigJam project.
Once you open a design file or create a new one, you will see the design interface of Figma. The workspace is blank by default until you make a frame using the preset sizes or create a custom-sized frame.
The interface consists of the layers panel on the left, which shows all the pages, frames, objects, and components that are added to the project. The top bar has tools that users can use to create the design, and the right-hand panels are the design and prototype settings.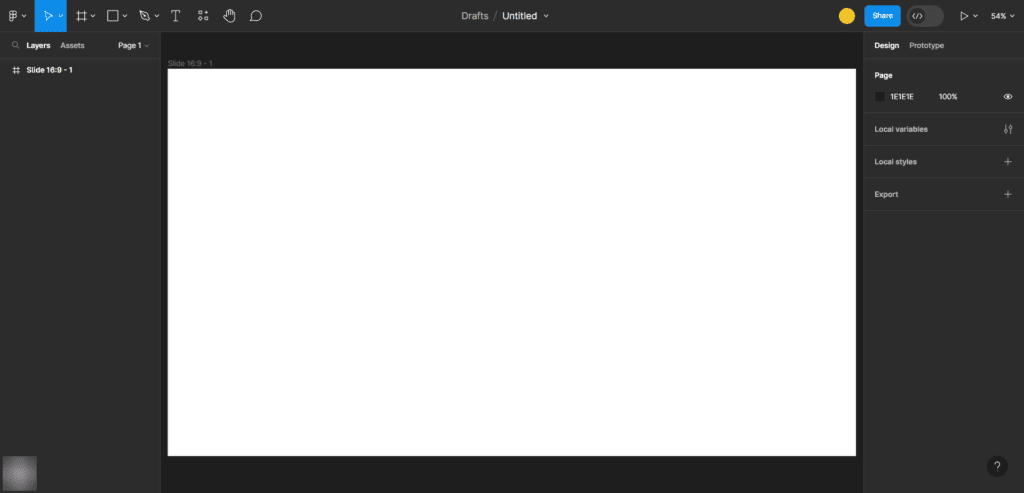 The Design panel changes as new elements are added to the project, offering more settings to change, such as the fill and stroke color of shapes, alignment options, and effects.

The Prototype panel holds the interactive tools and features for you to create designs that users can interact with, such as scrolling frames, hover states, and more.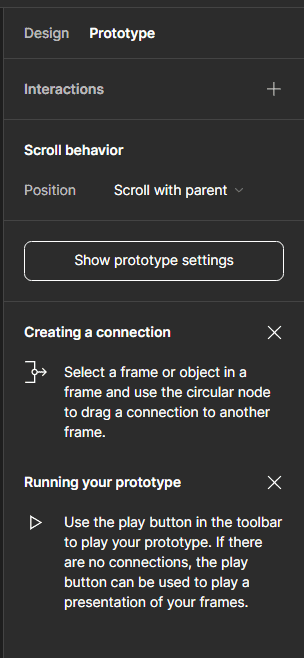 As with any design software, Figma is complicated for beginners learning design programs for the first time. However, the features are easy to find, and the tool names appear when hovering over them. Generally, Figma is easy to learn, and there are helpful tutorials online to guide beginners through the program.
As a result, Figma is relatively easy to learn, and won't take long to get comfortable with the interface, tools, and features.
Adobe Illustrator is an industry-level design software that portrays its expert status in the neat and feature-rich interface. The workspace is colored in gray tones with an emphasis on offering as many tools and features as possible.
The workspace is designed with a menu bar and options bar at the top, which gives users options to find more features and the various settings for the active tool. The lefthand side of the workspace is the toolbar, offering an impressive amount of tools to create vector graphics, such as shape, pen, pencil, and brush tools.
The document sits in the middle of the workspace, and the right-hand side offers several panels and windows containing more settings and controls to create professional graphics and artwork.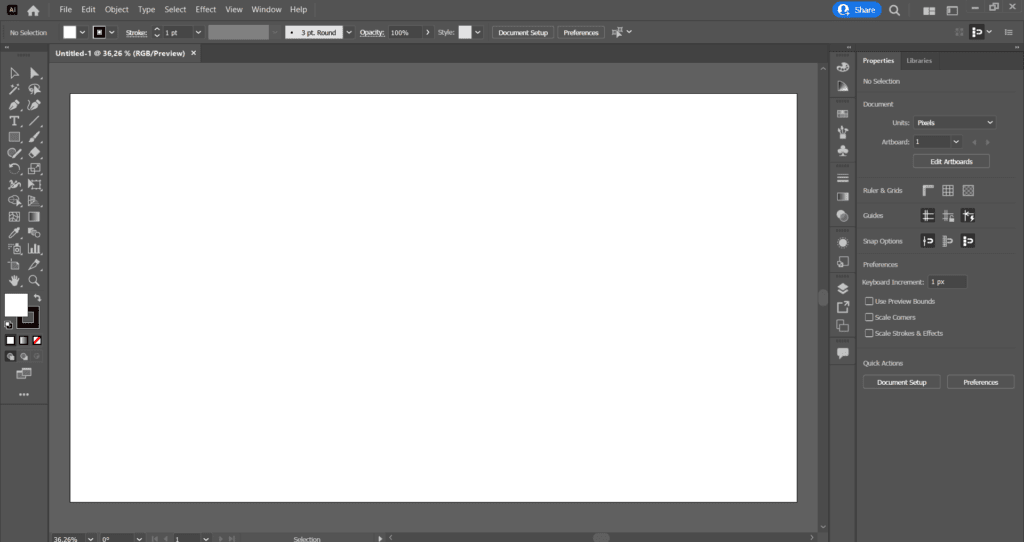 The toolbar is located on the left and has several tools for various functions, such as the pen tool to create vector paths and a variety of shape tools.

You can expand the panels on the right-hand side to access features like the Layers Panel, the Color Panel, and the Properties Panel.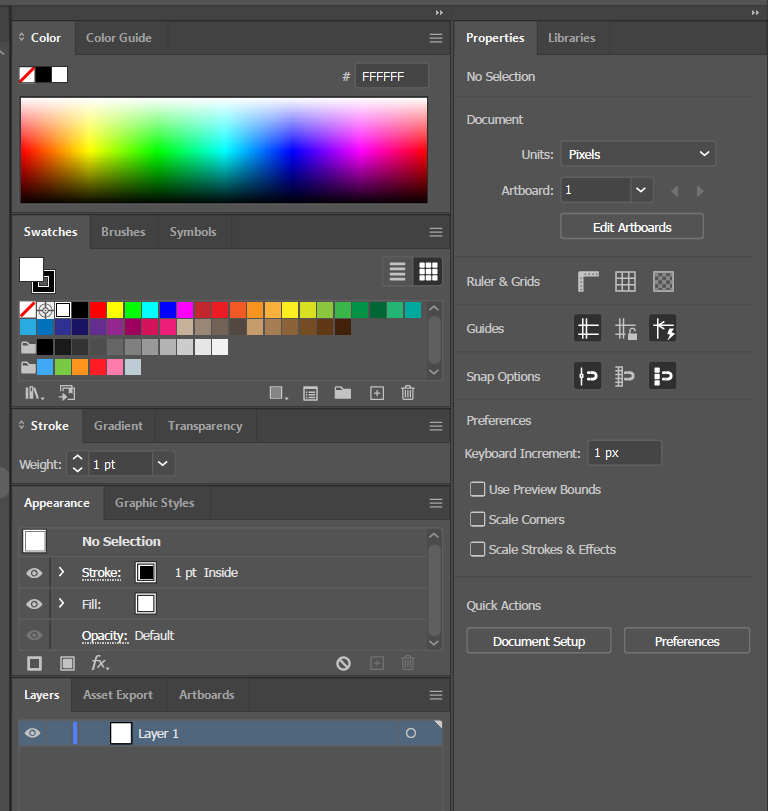 As a program designed for professionals, Illustrator has a steep learning curve before you can use the program proficiently. The number of features and capabilities of the program takes months to learn, and even experts need to continuously learn new features because of the regular updates from Adobe.
Illustrator requires dedication and purpose but is well worth it for professionals and those looking to work in the illustration and graphic design sector.
Tools and Features
Figma offers enough tools to create layouts and interfaces for websites and mobile apps. You can use the Frame Tool to add frames, which are the same as web pages or screens on an app. The tool comes with several preset sizes to choose from.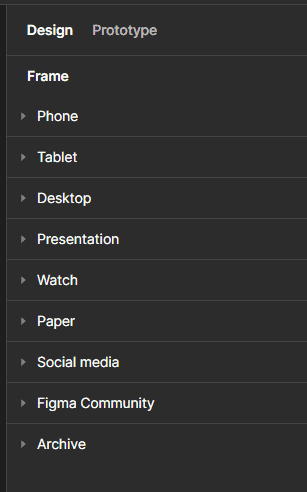 The vector-based tools consist of the shape, pen and pencil, and text tools. These tools allow you to create vector graphics in the frames for the layout design.

Where Figma shines is the Prototype and Component features, which allow you to create interactive elements and test the actual functionality of the design in the Prototype panel and the present tab.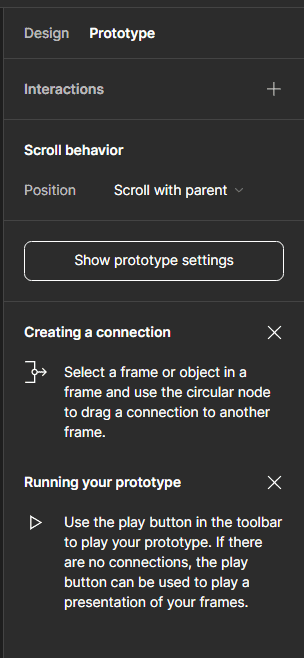 Illustrator is more tool and feature-rich than Figma, with several tools to create vector designs, such as various text, path, brush, and selection tools.
Another unique feature of Illustrator is the ability to change workspaces depending on your workflow, such as switching to the Typography workspace, which changes the interface to show all the necessary tools to work on your typography projects.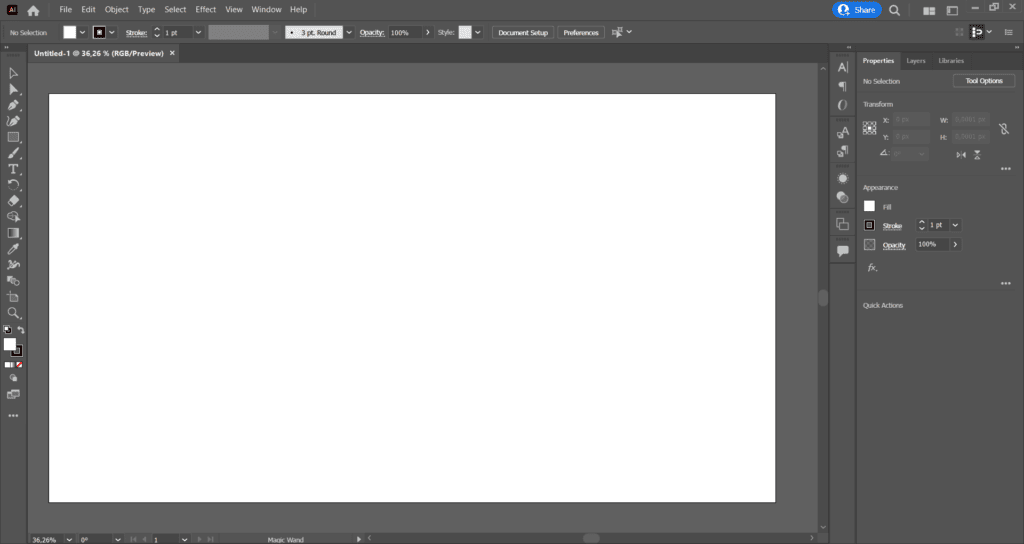 Compatibility and Resources
When working on design projects, it's often necessary to work across multiple programs or use plugins to complete your design requirements. Figma is a standalone program that doesn't support many file formats.
However, there are several plugins and widgets that you can access on the platform, such as adding text to a path and adding scrollbars. There are also several helpful tutorials online to teach users how to use the program's tools and features.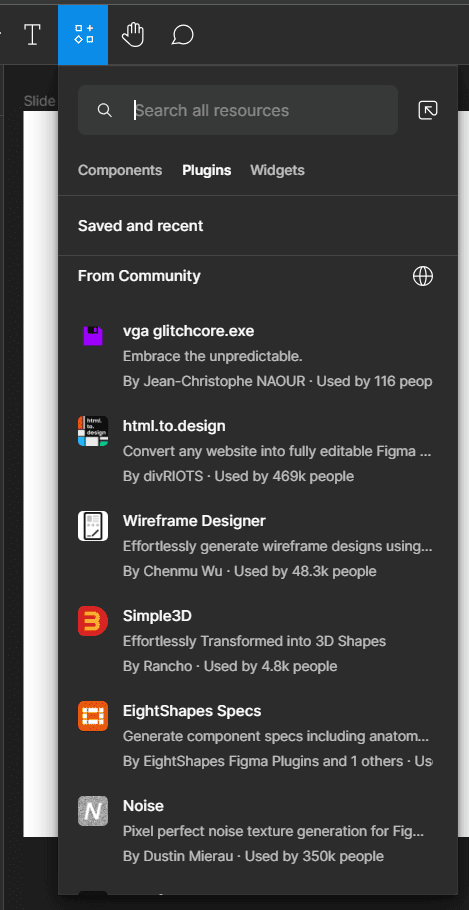 Illustrator is part of the Adobe Suite, which offers over 20 apps for creatives, including photo editing, layout design, and video software. The program works well with the other programs to provide a complete graphic design solution.
As a leading company, Adobe has abundant resources online, such as vector graphics, logo templates, mockups, and tutorials to help new users learn the program. You can also find helpful tutorials in the program to learn specific functions.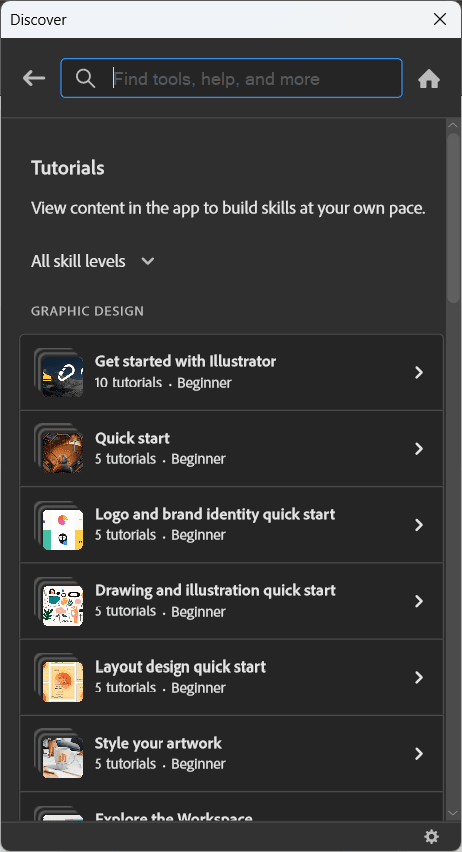 Pricing
Pricing is a significant factor when choosing new design software; this factor typically works with your intention to buy the program.
Figma offers a free version, which is useful for beginners or hobbyists who want to test their abilities in UI and UX design or if they are using it for personal reasons. However, the collaboration features are limited.
The paid versions of Figma work per editor per month and are well-suited for small and large professional teams. The first package is the Professional at $12 per editor per month, the next package is the Organization at $45 per editor per month, and the all-inclusive package is the Enterprise one at $75 per editor per month.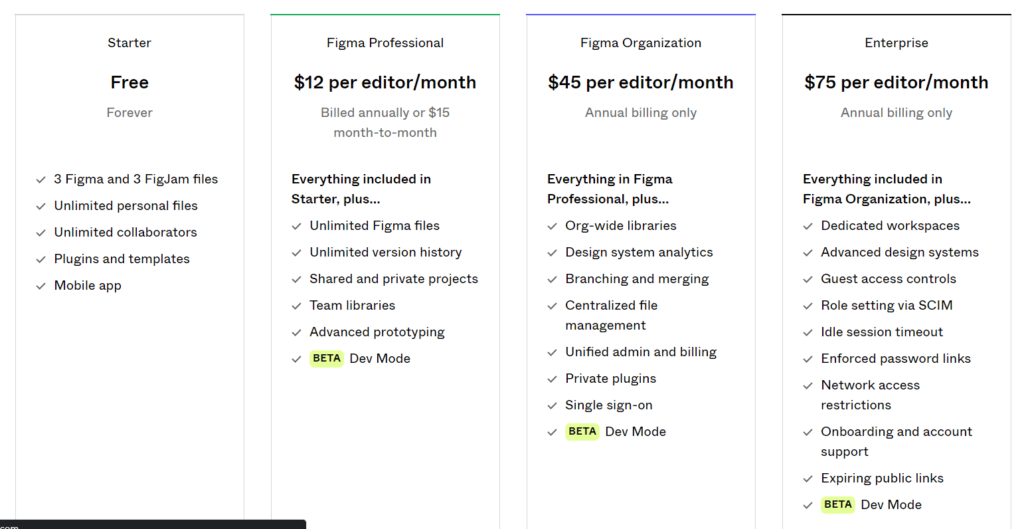 Illustrator doesn't offer a free version apart from the free 7 day trial. The program requires a monthly subscription, which is recommended for professionals and freelancers who will be selling their work and profiting from the designs made in the program.
There are several pricing structures for Illustrator, such as an annual prepaid subscription, a monthly fee without a cancellation fee, or a monthly fee that will charge a cancellation fee in the event you cancel the subscription early.
The most common pricing structure is the monthly fee with a cancellation fee. Users will pay $20.99 per month for the Illustrator app only. You can also get the All Apps plan, which is $54.99 per month.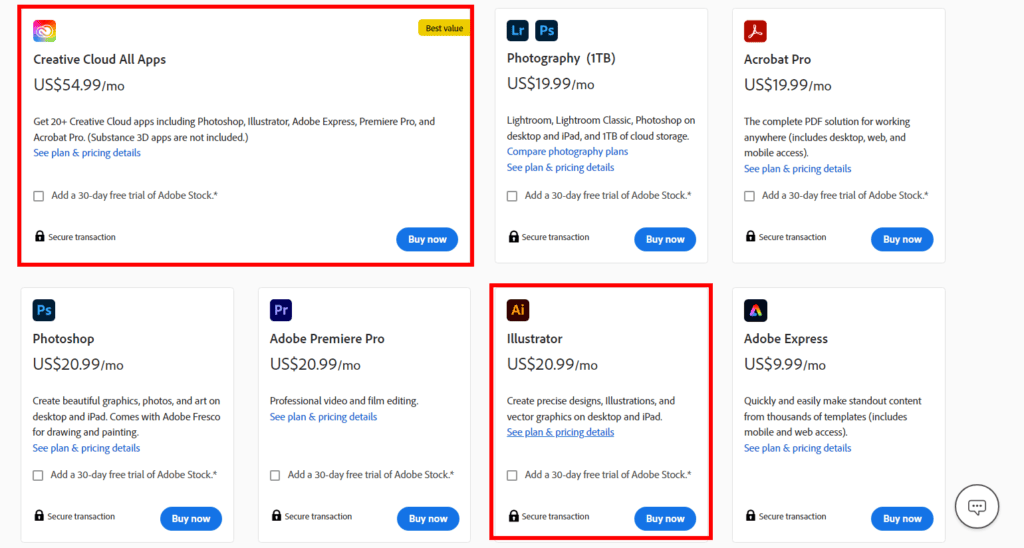 Who Is Figma For?
Figma is well-suited for creatives working or aiming to work in UI and UX design to create interfaces for web and mobile devices. The free plan is your best bet if you are new or just want to try the software.
However, companies should look at the Professional, Organization, or Enterprise packages for their teams to use. Ultimately the program is best suited for graphic and web designers who must collaborate with their teams.
Advantages
Free plan with several functions and tools
Unlimited page and frame additions
High-level prototype features
Real-time collaboration options
Disadvantages
Paid plans can be pricey for small businesses
Limited raster-editing capabilities
Who Is Illustrator For?
Illustrator is well-suited for illustrators, graphic designers, and digital artists who work with vector graphics to create scalable designs. The program is suited for freelancers and professionals who need a complete graphic design solution and illustrators.
Beginners may find the learning curve too steep and the price too high. Free alternatives like Krita, Inkscape, or FireAlpaca may be better suited until you are confident with design software.
Advantages
Industry-standard and used in many professional spaces
Abundance of free and paid resources online
Feature-rich program with all the tools you need to create vector artwork
Integration with other Adobe products and cloud storage
Disadvantages
A steep learning curve for beginners
High price for beginners and hobbyists
Conclusion
Ultimately, Figma and Illustrator provide different features and tools to create different outcomes. Figma is more suited for UI and UX designers to develop testable interfaces using components and interactive prototypes.
Illustrator is a vector-based illustration program designed for illustrators, graphic designers, and digital artists who are looking to create logos, graphics, and other marketing materials.
The paid versions of both programs are best suited to professionals working in the industry and generating income from the designs. Beginners should consider the free version of Figma or free alternatives to Illustrator to learn design software before committing to paid software.