The Internet grants you access to billions of beautiful and visual images. As a result, I find it difficult to let go of a low-quality image that fits perfectly into a design but find that the file is just too small due to its quality and resolution. That said, I decided to enlarge the file size and quality. So, how do you increase the file size of an image?
Software like Adobe Photoshop and sites like ImageEnlarger.com are able to increase the file size of your images. When enlarging images, the photo editor must develop additional pixels based on its best estimations in order to attain the desired size, often resulting in a pixelated, blurred image.
There is a plethora of alternative software to use either than Adobe Photoshop to enlarge the file size of your images. However, if you don't have any image editing software, ImageEnlarger.com can do the perfect job enlarging without any editing skills required, and for free! That said, how do you enlarge images with these tools?
Increasing A File Size Of An Image With Adobe Photoshop
Because not all of our photographs are the precise size we require, it's critical to learn how to resize an image correctly and how resizing works. The pixel information in an image is modified when it is scaled. When a picture is decreased in size, Photoshop discards any pixel information that is no longer needed.
Again, when an image is enlarged, the photo editor must develop and add additional pixel information based on its best estimations to achieve desirable size, which usually results in a pixelated or soft and fuzzy image. It is why downsizing a picture is considerably easier than enlarging an image.
Because of the difficulties of expanding, if a picture is needed for high-quality (publication) or big size (canvas) printing, make sure it is captured or downloaded with the best resolution and quality feasible before increasing the file size and quality even further.
Let's jump into enlarging that image you have in mind to its preferred size.
7 Steps To Enlarging Images Through Photoshop
1. Open up Adobe Photoshop and upload the image you have in mind by clicking on the "File" panel in the top left and selecting "Open" from the drop-down selection.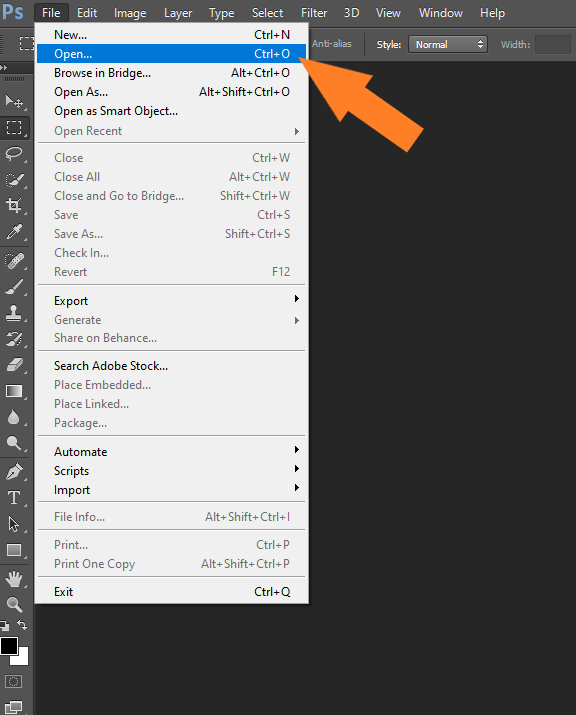 The shortcut key to do this is by pressing CTRL+O on your keyboard.
2. Find the desired image location that you would like to enlarge and select "Open."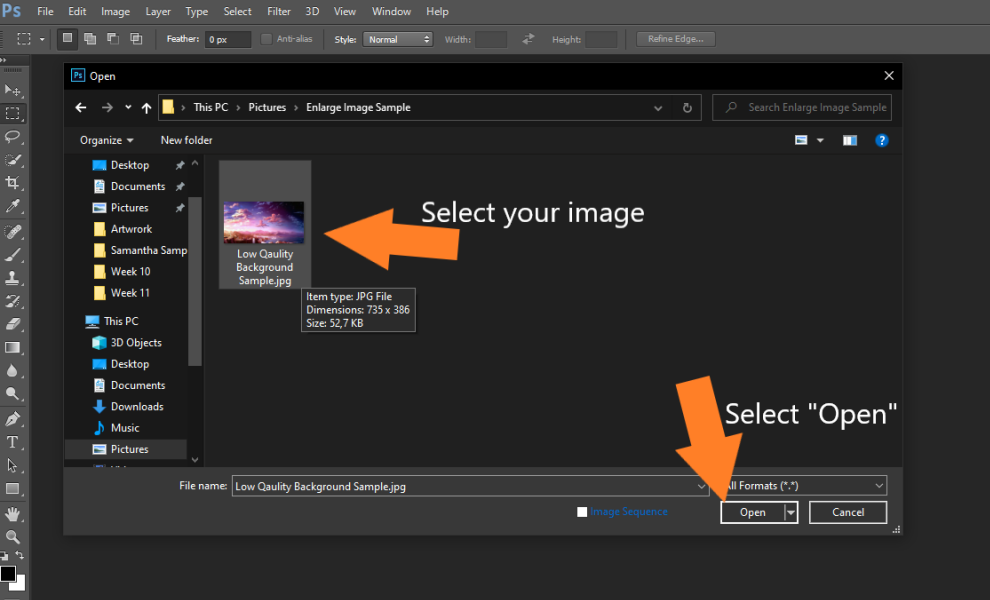 3. Now that you have opened your image into Photoshop make your way to the top-right hand side of Photoshop, where you will need to click on the "Essentials" panel. Select it and from the drop-down selection, select "Photography."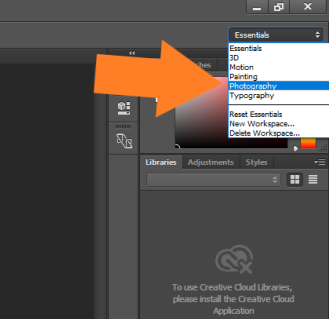 4. Now, you will need to move across to the top left-hand side of Photoshop and select the "Image" panel and from the selection, select the "Image size" option.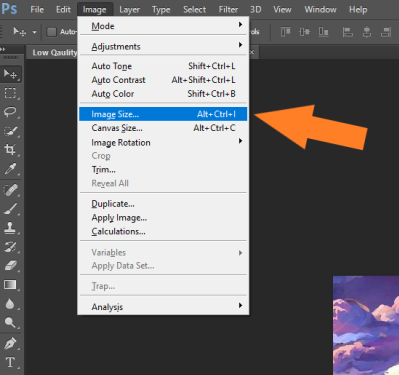 The shortcut key to do this is by pressing in Alt+Ctrl+I on your keyboard.
5. As the image size window appears, you'll notice that it has information such as file Dimensions, Width, and Heigh. Now, Photoshop has a rule called "The 110 rule," which is basically increasing your image size in increments of 10% as one of the best ways to maintain image quality and avoid pixelation and distortion.
Now, in the Image size window, next to Width and Height figures, you'll find a panel labeled "Pixels." Select that panel and change it to "Percentages." Change both the Width and Hight sections from 100 to 110.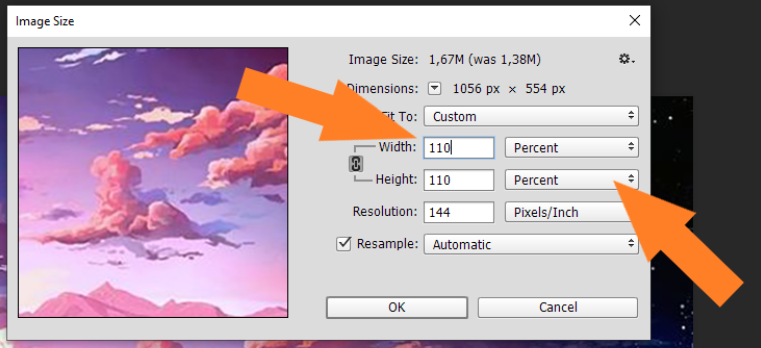 It's best to ensure that the "Resample" check box is constantly checked to ensure that the picture quality is improved as you enlarge your image. Before you apply the changes, select the "Automatic" panel and select the "Bicubic Smoother (enlargement)" option from the selection.
The Photography setting that we spoke of earlier allows you to record actions, allowing you to skip the process of repeating the 110 Photoshop rule if you plan to blow that image up to the next level of proportions.
6. Click on "OK" and watch the magic happen. As you click on "OK," you'll notice your image size increase. Repeat where necessary until you have the image size that you want.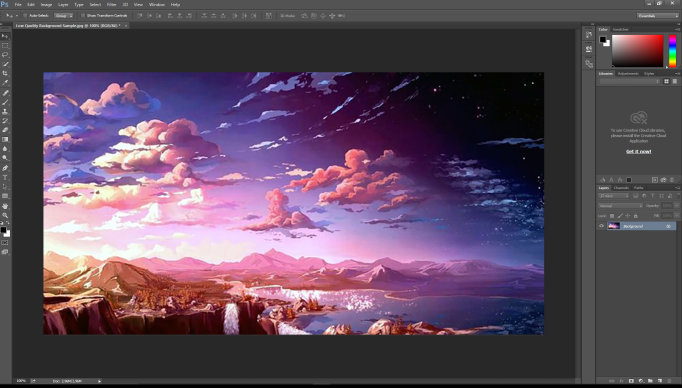 7. Not only are you increasing the file size for the reasons you need it enlarged for, but you are also maintaining as much quality Photoshop can automatically resample for you.
Now that you have the desired image not only larger in size but in quality too. You will be able to deduce after saving your document by comparing the file size of the new image to the original.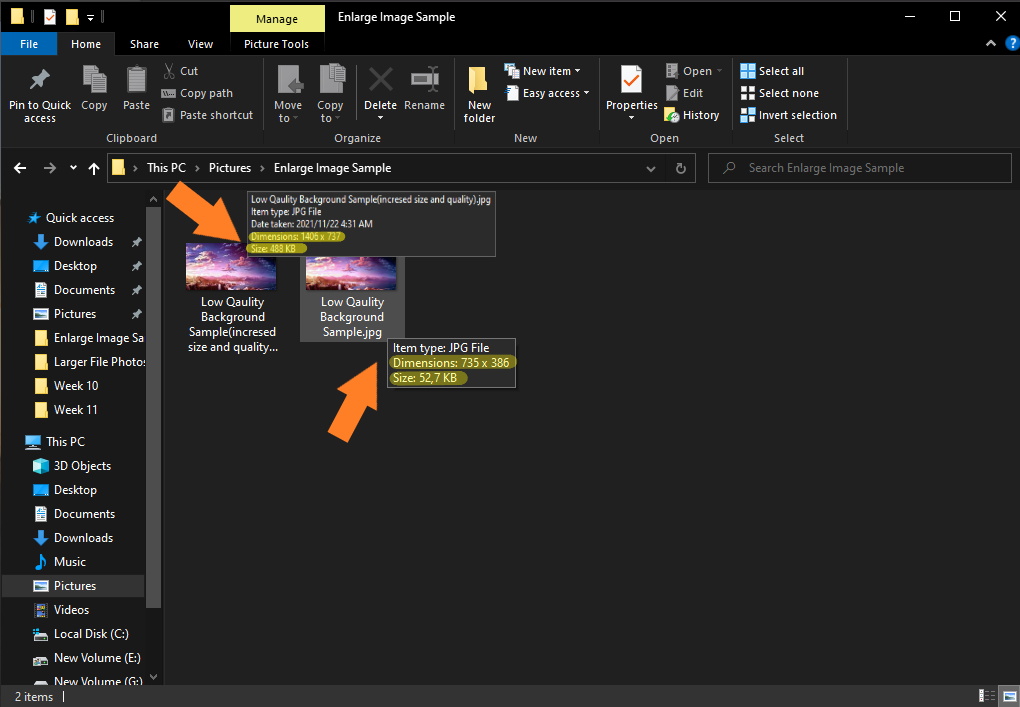 Increasing The File Size Of An Image Using ImageEnlarger.com
It's not always easy navigating through different image editors like photoshop when you are new to it and even more so when it comes to the more complicated design software that you've never navigated before in your life.
If you're only planning to increase an image file size from time to time, using free image editing sites is the way to go. A site like ImageEnlarger is one of the best as it gets straight to the point.
As a result, these steps are so straightforward that even the most technologically-challenged individuals would feel like an expert (we've all been there).
So, let's go through those easy steps.
Steps To Using ImageEnlarger.com To Increase Image File Size
Open up the ImageEnlarger website.
Select the "Choose File" option, similar to uploading an image to Photoshop; you will need to navigate to the location on your computer to where your file is stored and select "Open." An option to copy across the link to the image.
To get the link, go to the image you would like on the internet > right click on the image > select "Copy image address" from the drop-down list. After that, go back to the ImageEnlarger website and paste the address into the URL text box.
Select the image format you want from the selection. Choose either JPG (most common) or PNG. Both formats are compatible with the majority of devices today. However, if you are looking for bigger file size, selecting JPG would be your best option.
The "Zoom" option will manipulate the resolution of your image, which means that it will increase both the dimensions of the image and attempt to improve the quality as the image expands.
This way, your file size is increased as well. It is automatically set to a Zoom Factor of 2, which would automatically double the image's dimensions. You can increase it to multiply by three or more, again, depending on how big you want it.
Once you are happy with the size after testing it out once or twice, to download the image you want, simply click on the image, and it will automatically start downloading.
You have the easier way around enlarging a file and skipping having to purchase Photoshop or any other image editing software if you're only going to use it for enlarging images.
What Are Some Other Favorable Tools To Enlarge Images?
If you are involved in investing more time into enlarging the image for work or other projects and find that you prefer to use other design software besides Adobe suite or to browse what other websites have to offer, here are 3 top pics that you should consider.
Upscaler AI Image Enlarger By Stockphotos
Thanks to the drag-and-drop feature, the free picture Upscaler from StockPhotos features a simple UI. Simply submit your image, and the AI-powered upscaling will automatically raise the size to 2X. You may increase the image size by 4X or 8X without sacrificing quality.
Gimp GNU Image Manipulation Software
Gimp is a free, open-source program that lets you change the size of a photograph without losing too much quality. The picture editor is cross-platform, which may be used on GNU/Linux, OS X, Windows, and other platforms.
However, Gimp lacks drag-and-drop functionality, so you'll have to download the add-on to suit your resizing requirements.
Let's Enhance.io
The Let's Enhance online tool is another excellent AI-based image upscaler. The image upscaler, which can resize images up to 4K, employs cutting-edge algorithms to increase the colors, texture, and features of each image it processes. It's a great tool to increase quality along with file size.
Conclusion
Decreasing an image file size is easy, but increasing the file size of an image takes on a slightly different approach. Don't forget that simply just enlarging the image in some software editors won't maintain their quality.
If you do not have Adobe Photoshop, using online sites like ImageEnlager is the next best option. It is often arguably the better option for those who have not learned any editing skills as it skips out on any further editing with the options it provides.