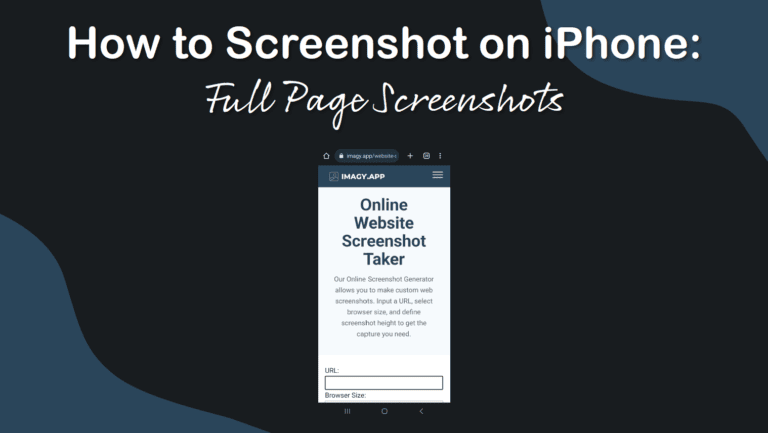 Taking a scrolling screenshot means that you can capture an entire text conversation, a document, a long recipe, and an entire web page in a single image. This is a helpful skill to keep important information in one file.
Here is all you need to know about taking a scrolling screenshot on your iPhone using Safari's built-in method or our service to create a screenshot with various additional options.
Full Page Screenshots on iPhone Using the Built-In Screenshot Function
First, open the web page containing the content you want to capture in Safari and use the regular Screenshot Shortcut (Lock + Volume Up).
Now, tab on the Preview:
From here, select "Full Page" below the Header bar: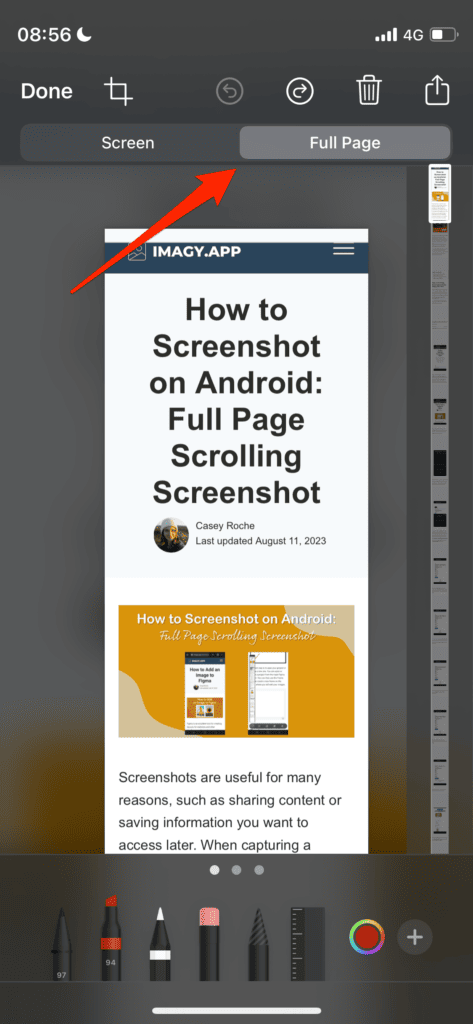 In the editing window, you will see a larger preview of the screenshot with tools along the bottom of the screen with options to edit the screenshot.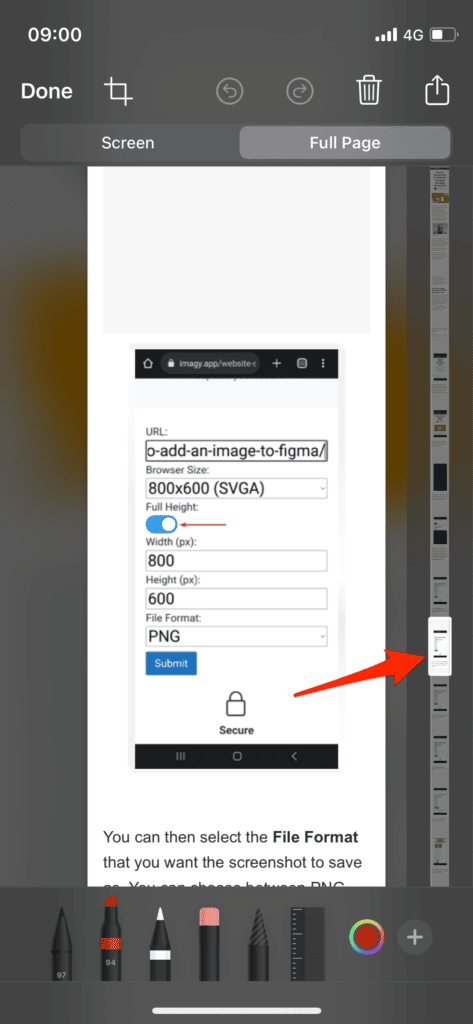 Keep in mind that the result of this Screenshot will be a PDF file. If you want to convert this into an image, drag it into our Image Converter, in which you can convert it into a PNG or various other File formats.
Screenshot an Entire Web Page Using Our Online Tool
The first method to take a full-page screenshot on iPhone is using our online tool, which is easy to use on any device and secure as we don't store any of your personal information on our servers. To use the full-page screenshot tool, you can simply paste the URL of the web page you want to capture and adjust a few settings.
The benefits of this method are that you can adjust the browser size to fit your device, and it's entirely free to use.
To take a screenshot, first, access the screenshot tool by opening it in your browser on your iPhone.
Then, open the web page you want to screenshot in a separate browser window. I will use a blog post from imagy.app to show this process.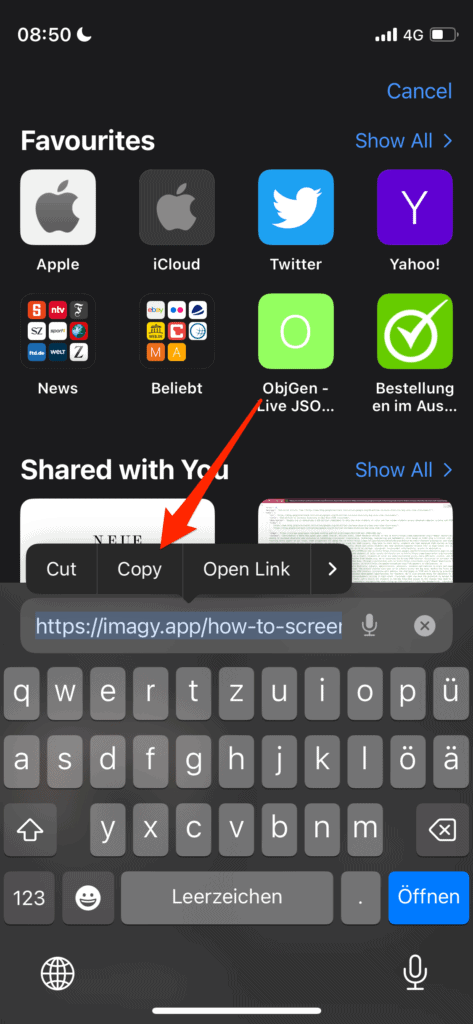 Then, switch back to our tool. Inside the URL box, paste the URL and select "Full Height".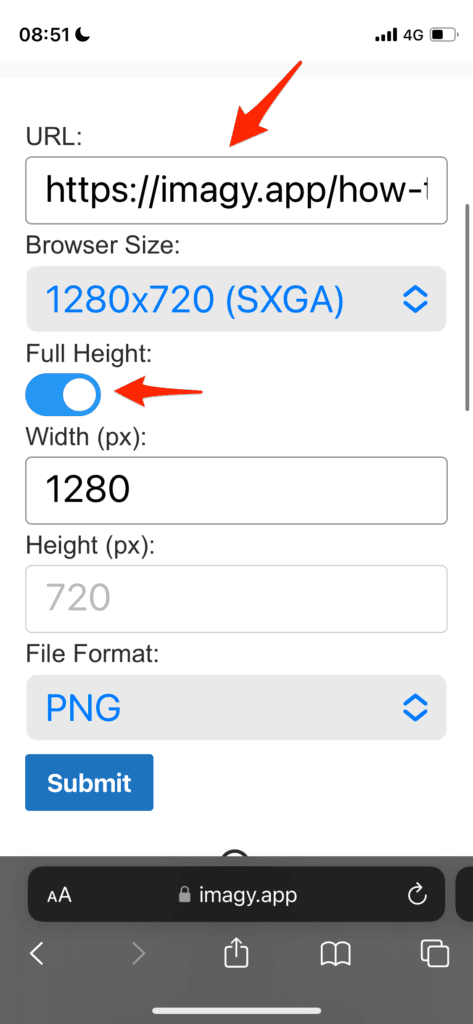 When the URL is pasted inside the box, you must change a few of the tool's settings to ensure the tool works as you wish. First, use the Browser Size drop-down menu to set the browser size or a custom Width using the Width box.
Optionally, you can choose the File Format that you want to save the screenshot.
When you are happy with the settings, tap the Submit button to generate the screenshot.
Wait a few moments for the tool to generate. This may take a few seconds based on the web page's length.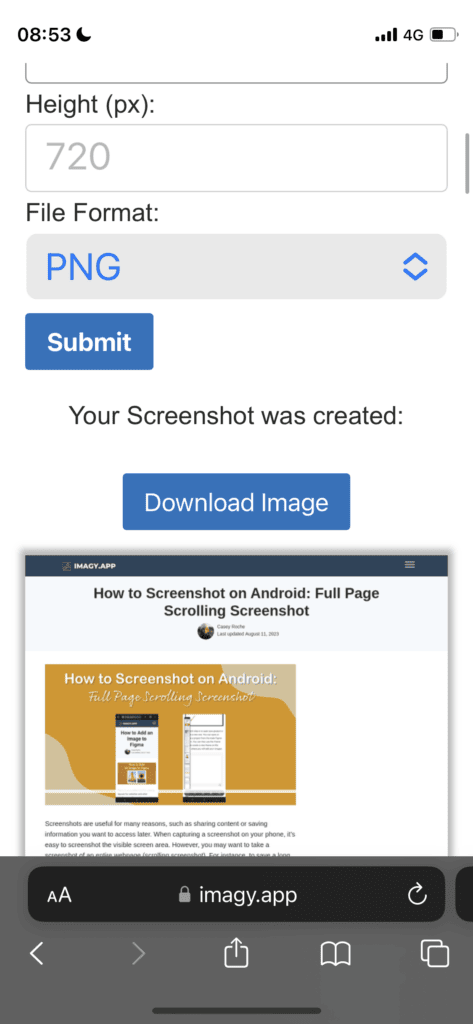 If the screenshot is correct, click Download Image to save the scrolling screenshot.