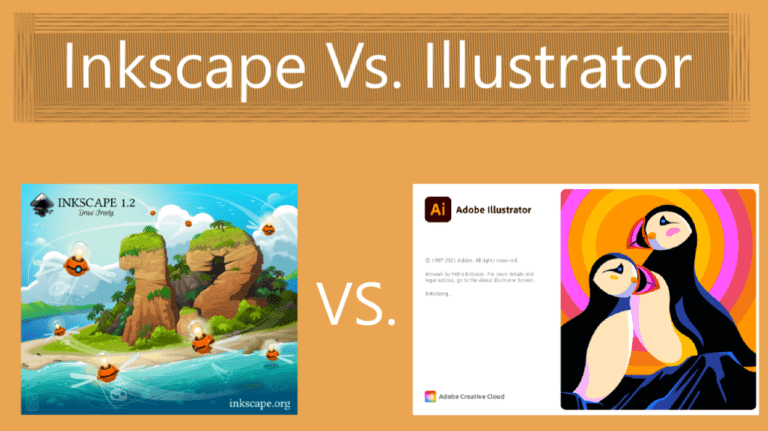 If you are looking for design software, you may be overwhelmed by the different options to choose from. Regarding vector-based design programs, two that stand out are Inkscape and Adobe Illustrator, and it can be challenging to know which is the best for you.
These two programs have a lot in common, but significant differences will determine which program you should download. I have used both these programs extensively, and while I enjoy both of them for different workflows, you may need a specific one for your needs.
The quick answer without going into the details of each program: The main differences between these two programs are that Inkscape is a free and open-source program well-suited for hobbyist and beginner digital artists. Illustrator is an industry-standard subscription-based design program that professional graphic designers and illustrators use.
Here is a detailed head-to-head if you want to get into the finer details between Inkscape vs. Illustrator.
Comparison Overview
| | | |
| --- | --- | --- |
| | Inkscape | Adobe Illustrator |
| Compatibility | Windows, Mac, Linux | Windows, Mac, Ipad, Linux |
| Common Uses | Beginner or hobbyist digital drawing, vector-creation, and creating graphics for digital use | Professional graphic design and illustration, including materials (logos, icons, graphics) for screen and print |
| Interface | Basic and customizable | Clean, modern, and feature-rich |
| Ease-Of-Use | Beginner-friendly, but can be complicated for users unfamiliar with design software | Has a steep learning curve |
| File Formats | SVG, PDF, PNG, JPEG, AI, BMP, TIFF, GIF, WEBP, and more | AI, EPS, PDF, JPEG, PNG, PSD, WEBP, GIF, TIFF, BMP, CSS, and more |
| Pricing | Free and open-source | Subscription-based at US$20.99 per month after a 7-day free trial |
Comparison Between Inkscape and Adobe Illustrator
When deciding between two programs, it's not always about which program is better but which suits your craft. Here is a breakdown of the key features between the two programs, which you can use to decide which program will help you achieve the results you are looking for.
Interface and Ease-Of-Use
Inkscape is a beginner-friendly design program that is relatively easy to navigate and learn. However, if you are new to digital design programs, you may be slightly confused at first. Luckily, there are plenty of helpful tutorials and how-to articles online to help you learn the basics.
The Inkscape interface is outdated and quite busy, which is overwhelming for beginners wanting to learn the program.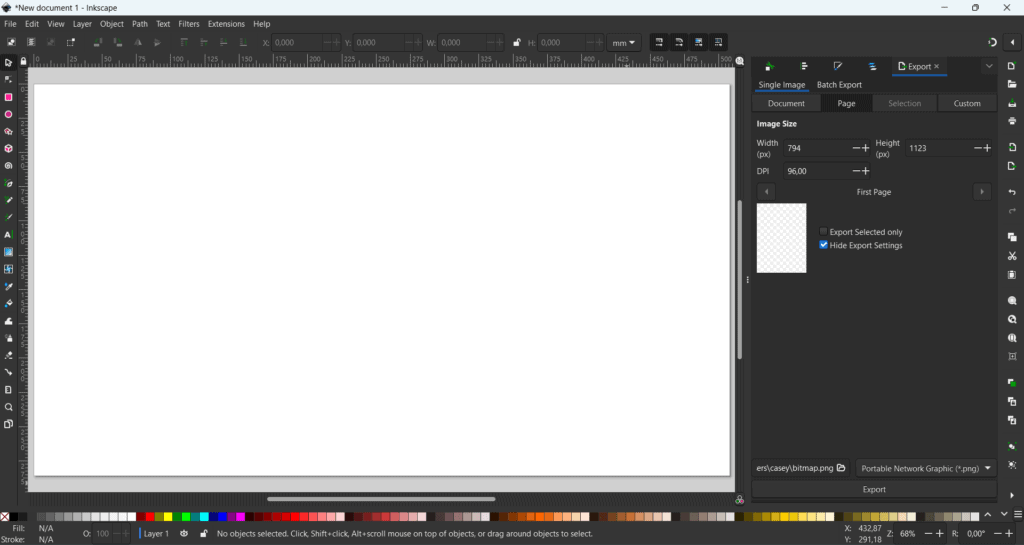 However, a big plus in the Inkscape interface is that whenever you hover over a tool, it has a long name that describes what the tool is used for, which is helpful for those learning the program. There is also a large community to learn the program online.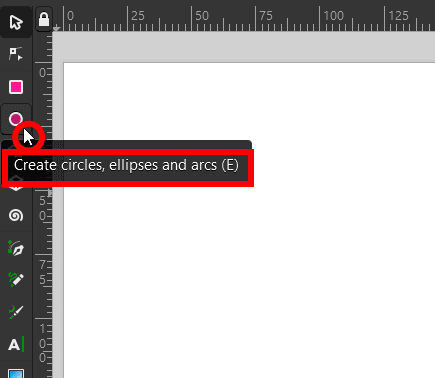 Illustrator is a more complex program that requires a steep learning curve to get familiar with the program.
If you have used any Adobe programs before, you will find familiar tools and functions that help you learn the features much more quickly. However, if you are a beginner, you will need a few months of learning to get comfortable with the program.
The Illustrator interface is clean and modern, with the features and tools tucked neatly into panels, windows, and menus.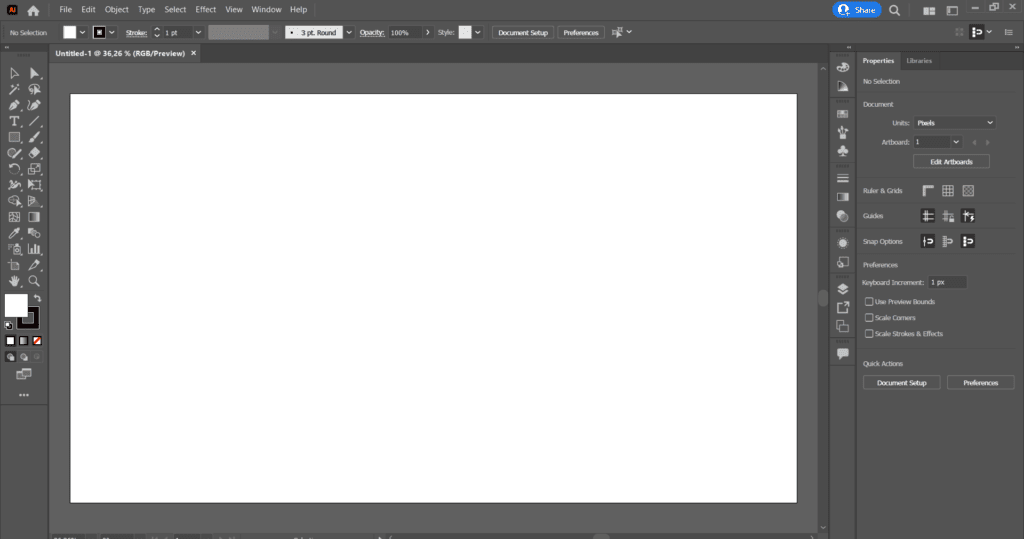 When you hover over a tool in Illustrator, you will find the tool name and the option to learn more about how to use the tool, which helps to have built-in tutorials when learning the program. There is also a short animation showing the tool in action.
There is an abundance of how-tos and tutorials to learn Illustrator online as well.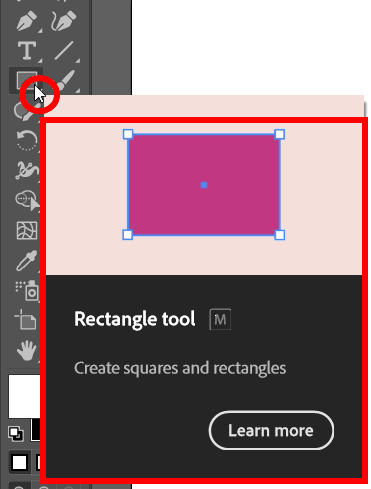 Winner: Tie
Tools and Features
Both programs offer a wide variety of tools and features to create vector graphics and digital illustrations. There are specific tools and features which are similar with a few distinct differences. Both programs offer brush, shape, text, gradient, path, and other vector-based drawing tools.
Both programs have a Pen Tool (known as the Bezier Tool in Inkscape) to create paths which is a key feature for illustration and vector graphics.
The Pen Tool in Illustrator creates paths using highly customizable anchor points.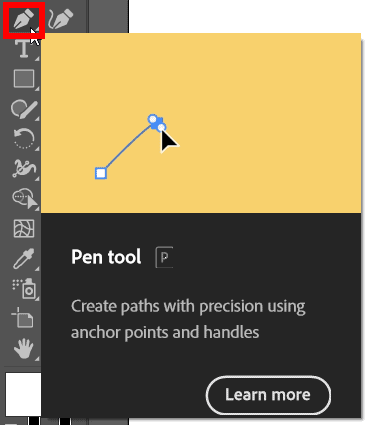 The Bezier Tool in Inkscape works with node editing, which is limiting and has setbacks compared to the method used in Illustrator.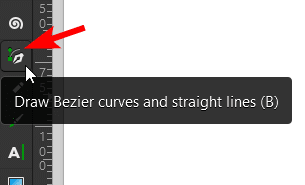 Both programs also have Brush Tools that allow users to create drawings from scratch. In Inkscape, the calligraphic brush tool offers more customization, such as pressure adjustments and tremor settings when using a drawing pad with the program.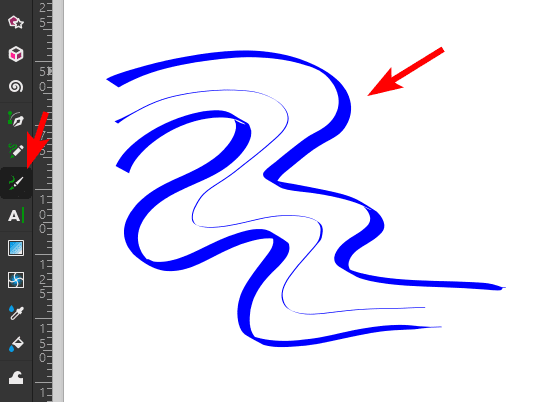 The Paintbrush Tool in Illustrator has fewer options to customize, but it has smoothness correction and pressure options.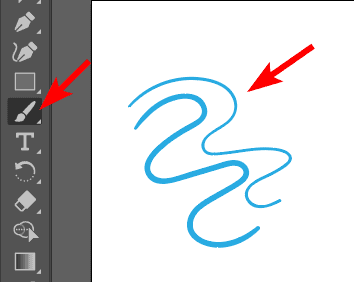 Inkscape offers a surprisingly wide array of tools and features for a free program; you won't find it lacking much. However, Illustrator provides a few extras, such as:
Compatibility with other design software, especially InDesign, Photoshop, and other Adobe software.
3D tools and features
Cloud compatibility
More intuitive Type Tool for creating text for typography work
Winner: Illustrator
Color Modes
A big difference between the two programs is the color modes available.
Inkscape uses RGB and Grayscale without any support for CMYK, severely limiting users who want to print projects created in the program.
While you can work around this and convert it to a CMYK color space, not having the ability to create designs in the color space leads to color issues when printing. If you want to create posters, invitations, and other printed materials, Inkscape is not a good option.
Illustrator offers the option to use RGB, CMYK, and Grayscale when creating a document. You can also easily convert the colors to work directly in your desired color mode. This helps you accurately design projects for both print and digital display.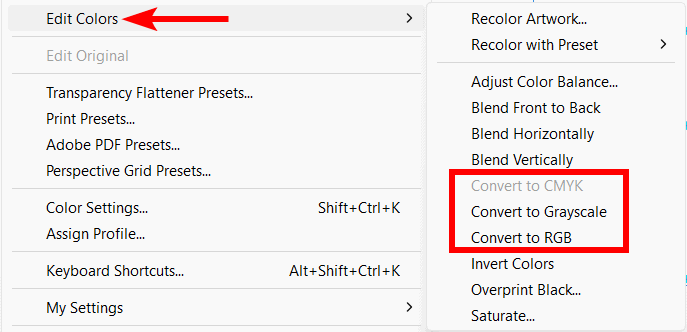 Winner: Illustrator
Pricing
Inkscape is a free and open-source program with dedicated developers working on adding new features and fixing issues in the program. You can download and use the program for free without paying anything.
Illustrator is a part of the Adobe Creative Cloud and requires a subscription to use the program. You can buy the program on a monthly or yearly subscription.
If you buy Illustrator on its own, you will pay US$20.99 monthly. You can also buy it within the All Apps bundle at US$54.99 per month, which includes the entire Adobe Suite of programs.
Winner: Inkscape
Who Is Inkscape For?
Inkscape is perfect for hobbyists or beginner digital artists who want to try a vector-based program before committing to a paid one. Inkscape is also well-suited for digital drawing and creating graphics that will be used digitally.
Consider Inkscape to create digital logos or graphics for websites, apps, or online stores.
Advantages
Free and open-source
Beginner-friendly
Quick learning curve
Good for learning digital drawing and vector creation
Disadvantages
Limitations because of node editing
No CMYK color mode for printing
The Text Tool isn't intuitive
Who Is Illustrator For?
Illustrator is an industry-standard vector-based design program perfect for professional graphic designers and illustrators who need to create materials for both digital and print. The paid program offers extensive features and tools for professionals to create unique artwork.
You should use Illustrator to design professional print and digital-friendly logos, digital and online marketing materials, business cards, and website elements.
Advantages
Industry-standard program for vector and drawing creation
Feature-rich for professional graphic design and illustration
Compatibility with an array of file formats
Supports various color modes
Disadvantages
Subscription-based with an expensive fee
Requires a lot of resources to run
A steep learning curve is required to use it confidently
Conclusion
Inkscape and Adobe Illustrator are both feature-rich vector-based design programs that offer users several tools and functions to create graphics and digital drawings.
While Inkscape is a free and open-source program best suited for beginners and hobbyists, Illustrator is a paid program created for graphic design and illustration professionals.
If you can pay a monthly or yearly subscription to use Adobe Illustrator, I recommend using the program for professional projects, especially print projects. You can also download Inkscape for free for a faster workflow for smaller digital projects.
If you are a beginner looking to find out if illustration and graphic design are something you will enjoy, test out your skills in Inkscape before committing to a paid program.