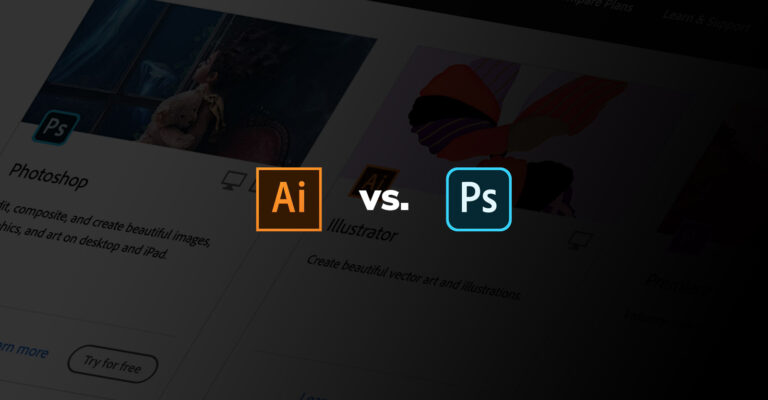 For beginners in design, the extensive array of software can be a little overwhelming.
While there are countless software out in the market today, the most popular ones are from Adobe.
Adobe is a multimedia software company that owns the famous Adobe Photoshop and Adobe Illustrator.
Many still struggle to differentiate which one is better used for certain projects.
Knowing its basic capabilities can help you in choosing which one is more appropriate for your specific project.
Adobe Photoshop
Adobe Photoshop is a software that is commonly used for everything raster — from image editing, to digital art. It is designed for creatives to create and edit their work in layers. This layering system allows transparency, masks, and filters that can modify the images layers below those effects.
The default file extension for work done in Adobe Photoshop is called .PSD (Photoshop Document). There are others too, like .PSB which is Photoshop's large document format.
With Adobe Photoshop, you can:
1. Edit and manipulate photos
Photoshop is a remarkable software for editing photos because of its wide range of tools and abilities.
Augment colors, adjust contrast, or fix sharpness.
Fix and re-touch old photographs or existing work such as blemish removals, clone stamp, and more.
Correct existing work such as adding a border, re-touch, blemish removals, etc.
Crop images in any way and shape you choose.
2. Create digital paintings and illustrations
Most paintings, cartoons, book covers, and other artworks seen online aren't created with a traditional paintbrush and canvas. They're created digitally, with a mouse or tablet as your paintbrush, and Photoshop as the canvas. How good does it feel to quickly undo a mistake done digitally, rather when doing traditional art?
Copy old-school, brush-in-hand artwork using specific brush tools that are specially made.
Use blending brushes or layers can also combine different colors and textures.
Add overlay effects for added depth and personality.
3. Create and edit GIFs
GIFs are the cool new thing on social media, and knowing how to make a GIF is not just an important basic skill, but it makes you look neat.
Create your artwork in different layers.
Play with the frames and time with Photoshop's built-in timeline.
Adobe Illustrator
While Adobe Photoshop is mainly used for raster graphics, Adobe Illustrator is marketed for vector graphics. Widely used by graphic designers, other creatives such as web designers, visual artists, and professional illustrators also create high-quality artwork using this program. Adobe Illustrator features sophisticated drawing tools and upgrades that can reduce the time needed to create designs.
The default file extension for work done in Adobe Illustrator is called .AI.
With Adobe Illustrator, you can:
1. Produce vector graphics and illustrations
Adobe Illustrator has a powerful tool called the Pen tool. It creates anchor points, which forms paths that connect with lines and therefore, form a shape.
Create vector-style illustrations, infographics, and more.
2. Design visuals for branding
Brand boards, or mood boards, are commonly created in Adobe Illustrator because of the vector aspect. Besides, files saved from this software, like .SVG can be used in any collateral.
Create logos, collaterals, and mock-ups to create a full-on branding project.
3. Create original typography
This software makes it possible to manipulate text, or even better, to create your own font.
Create a new font from the basic fonts provided.
Fix errors in existing fonts.
Place text inside shapes and objects.
4. Trace images instantly
Illustrator can import an image and use it as a guide to trace an object.
Re-create an image by tracing it manually with a pen tool, or by using other tools such as Live Trace.
Fixing pixelated images and objects.
5. Work on different scales
With Adobe Photoshop, you can't work on different scales in one document. But with Adobe Illustrator, you can work on any scale. So it doesn't matter if it's a small icon or a large poster that will be printed at different sizes.
Create visuals for web purposes.
Illustrate posters for print or any medium.
---
The similarity in both software is that they are used to create stunning and innovative visuals. Also, Adobe's products use a file format that is compatible between Mac and Windows, which makes it easy to transfer and open files without conversion.
In the end, it is important to be able to work between both Illustrator and Photoshop as each offers a unique set of features and tools that compliment each other. As a general rule of thumb though — go with Photoshop for image editing and raster (photo) heavy projects, and go with Illustrator vector designs and logos.