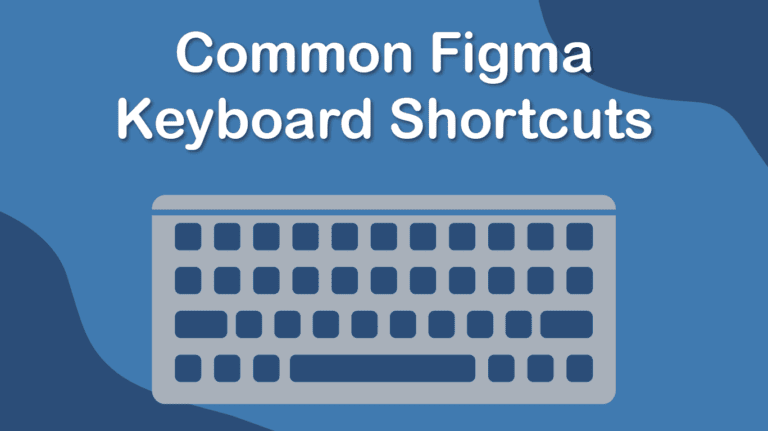 When using any design program, learning all the keyboard shortcuts to speed up your workflow and stay as efficient as possible is helpful. Most design software uses standard shortcuts you are likely to be familiar with. However, there are always a few differences.
I have compiled a complete list of the most used keyboard shortcuts in Figma to help you work on the program optimally and increase your productivity. This comprehensive list of shortcuts has the keys for Windows and Mac, so you can find what you need here.
How to View the Keyboard Shortcuts in Figma
You can view the list of the most frequently used shortcuts in Figma if you want to see them on the page while learning them. This lets you get used to each shortcut as you work. However, you can use this list to ensure you get the shortcut for both Mac and Widows.
To view the shortcuts in Figma, click on the Help and Resources button, shown as a "?" icon at the bottom right corner of the workspace.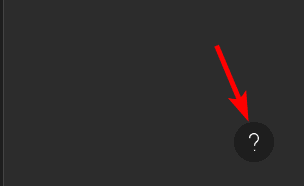 Then, select Keyboard Shortcuts. You can also use the shortcut to open the panel, which is Shift + Control + ? on Windows or Shift + Command + ? on Mac.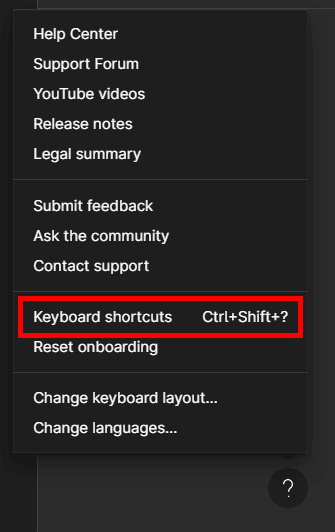 You will see the panel at the bottom of the screen, and you can navigate through the tabs to view the different categories of shortcuts.

Essential Keyboard Shortcuts
| Windows | Mac | Action |
| --- | --- | --- |
| Control + \ | Command + \ | Show/Hide UI |
| I | Control + C | Pick Color |
| Control + / | Command + / | Quick Actions |
Shortcuts for Tools
| Windows | Mac | Action |
| --- | --- | --- |
| V | V | Move Tool |
| F | F | Frame Tool |
| P | P | Pen Tool |
| Shift + P | Shift + P | Pencil Tool |
| T | T | Text Tool |
| R | R | Rectangle Tool |
| O | O | Ellipse Tool |
| L | L | Line Tool |
| Shift + L | Shift + L | Arrow Tool |
| C | C | Add Comment |
| I | Control + C | Pick Color |
| S | S | Slice Tool |
View Keyboard Shortcuts
| Windows | Mac | Action |
| --- | --- | --- |
| Control + \ | Command + \ | Show/Hide UI |
| Control + Alt + \ | Command + Option + \ | Show Multiplayer Cursors |
| Shift + D | Shift + D | Open Dev mode |
| Shift + R | Shift + R | Rulers |
| Shift + O | Shift + O | Show Outlines |
| Shift + Control + P | Command + P | Pixel Preview |
| Shift + G | Command + G | Layout Grids |
| Shift + ' (apostrophe) | Command + ' (apostrophe) | Pixel Grid |
| Alt + 1 | Option + 1 | Open Layers Panel |
| Alt + L | Option + L | Collapse All Layers |
| Alt + 2 | Option + 2 | Libraries |
| Alt + 8 | Option + 8 | Open Design Panel |
| Alt + 9 | Option + 9 | Open Prototype Panel |
| Alt + 0 | Option + 0 | Open Properties Panel |
Text Shortcuts
| Windows | Mac | Action |
| --- | --- | --- |
| Control + B | Command + B | Bold |
| Control + I | Command + I | Italic |
| Control + U | Command + U | Underline |
| Control + K | Command + K | Create Link |
| Shift + Control + X | Shift + Command + X | Strikethrough |
| Shift + Control + 7 and 8 | Shift + Command + 7 and 8 | Turn Into a List |
| Control + Alt + L | Command + Option + L | Text Align Left |
| Control + Alt + T | Command + Option + T | Text Align Center |
| Control + Alt + R | Command + Option + R | Text Align Right |
| Control + Alt + J | Command + Option + J | Text Align Justified |
| Shift + Control + < and > | Shift + Command + < and > | Adjust Font Size |
| Control + Alt + < and > | Command + Option + < and > | Adjust Font Weight |
| Alt + < and > | Option + < and > | Adjust Letter Spacing |
| Shift + Alt + < and > | Shift + Option + < and > | Adjust Line Height |
Edit Keyboard Shortcuts
| Windows | Mac | Action |
| --- | --- | --- |
| Control + C | Command + C | Copy |
| Control + X | Command + X | Cut |
| Control + V | Command + V | Paste |
| Shift + Control + R | Shift + Command + R | Paste to Replace |
| Shift + Control+ V | Shift + Command + V | Paste Over Selection |
| Control + D | Command + D | Duplicate |
| Control + R | Command + R | Rename Selection |
| Shift + Control + E | Shift + Command + E | Export |
| Control + F | Command + F | Find |
| Shift + Control + C | Shift + Command + C | Copy as PNG |
| Control + Alt + C | Command + Option + C | Copy Properties |
| Control + Alt + V | Command + Option + V | Paste Properties |
Zoom Keyboard Shortcuts
| Windows | Mac | Action |
| --- | --- | --- |
| Shift + Drag | Shift + Drag | Pan |
| Control + + | Command + + | Zoom In |
| Control + - | Command + - | Zoom Out |
| Control + 0 | Command + 0 | Zoom to 100% |
| Shift + 1 | Shift + 1 | Zoom to Fit |
| Shift + 2 | Shift + 2 | Zoom to Selection |
| N | N | Zoom to Next Frame |
| Shift + N | Shift + N | Zoom to Previous Frame |
| Page Up | Page Up | Previous Page |
| Page Down | Page Down | Next Page |
| Home | Home | Find Previous Frame |
| End | End | Find Next Frame |
Shape Keyboard Shortcuts
Windows
Mac
Action
P
P
Pen
Shift + P
Shift + P
Pencil
While Editing a Shape
B
B
Paint Bucket
Control
Command
Bend Tool
Alt + /
Option + /
Remove Fill
Shift + /
Shift + /
Remove Stroke
Shift + X
Shift + X
Swap Fill and Stroke
Shift + Control + O
Shift + Command + O
Outline Stroke
Control + E
Command + E
Flatten Selection
After Selecting Points
Control + J
Command + J
Join Selection
Shift + Backspace
Shift + Backspace
Delete and Heal Selection
Selection Shortcuts
| Windows | Mac | Action |
| --- | --- | --- |
| Control + A | Command + A | Select All |
| Shift + Control + A | Shift + Command + A | Select Inverse |
| Escape | Escape | Select None |
| Control + click | Command + click | Deep Select |
| Enter | Enter | Select Children |
| \ | \ | Select Parent |
| Tab | Tab | Select Next Sibling |
| Shift + Tab | Shift + Tab | Select Previous Sibling |
| Control + Alt + A | Command + Option + A | Select All Matching Layers |
| Control + G | Command + G | Group Selection |
| Control + Backspace | Shift + Command + G | Ungroup Selection |
| Control + Alt + G | Command + Option + G | Frame Selection |
| Shift + Control + H | Shift + Command + H | Show/Hide Selection |
| Shift + Control + L | Shift + Command + L | Lock/Unlock Selection |
Cursor Keyboard Shortcuts
Windows
Mac
Action
While Pointing
Alt
Option
Measure to Selection
While Moving
Alt
Option
Duplicate Selection
While Clicking
Control + click
Command + click
Deep Select
While Dragging to Select
Control + Drag
Command + Drag
Deep Select Within Rectangle
While Resizing
Alt
Option
Resize From Center
Shift
Shift
Resize Proportionally
Space
Space
Move While Resizing
Control
Command
Crop (ignore constraints on images and frames)
Components Keyboard Shortcuts
Windows
Mac
Action
Alt + 2
Option + 2
Show Assets
Control + Alt + O
Command + Option + O
Team Library
Control + Alt + K
Command + Option + K
Create Component
Control + Alt + B
Command + Option + B
Detach Instance
Shift + I
Shift + I
Insert
While Inserting a Component
Alt
Option
Swap Component Instance
Transform Keyboard Shortcuts
| Windows | Mac | Action |
| --- | --- | --- |
| Shift + H | Shift + H | Flip Horizontal |
| Shift + V | Shift + V | Flip Vertical |
| Control + Alt + M | Command + Option + M | Use as Mask |
| Enter | Enter | Edit Shape or Image |
| Shift + Control + K | Shift + Command + Enter | Place Image |
| 0 + 0 | 0 + 0 | Set Opacity to 0% |
| 1 | 1 | Set Opacity to 10% |
| 5 | 5 | Set Opacity to 50% |
| 0 | 0 | Set Opacity to 100% |
Arrange Shortcuts
| Windows | Mac | Action |
| --- | --- | --- |
| Control + ] | Command + ] | Bring Forward |
| Control + [ | Command + [ | Send Backward |
| ] | ] | Bring to Front |
| [ | [ | Send to Back |
| Alt + A | Option + A | Align Left |
| Alt + D | Option + D | Align Right |
| Alt + W | Option + W | Align Top |
| Alt + S | Option + S | Align Bottom |
| Alt + H | Option + H | Align Horizontal Centers |
| Alt + V | Option + V | Align Vertical Centers |
| Shift + Alt + H and V | Shift + Option + H and V | Distribute Spacing |
| Shift + Control + Alt + T | Shift + Command + T | Tidy Up |
| Shift + A | Shift + A | Add Auto Layout |
| Shift + Alt + A | Shift + Option + A | Remove Auto Layout |